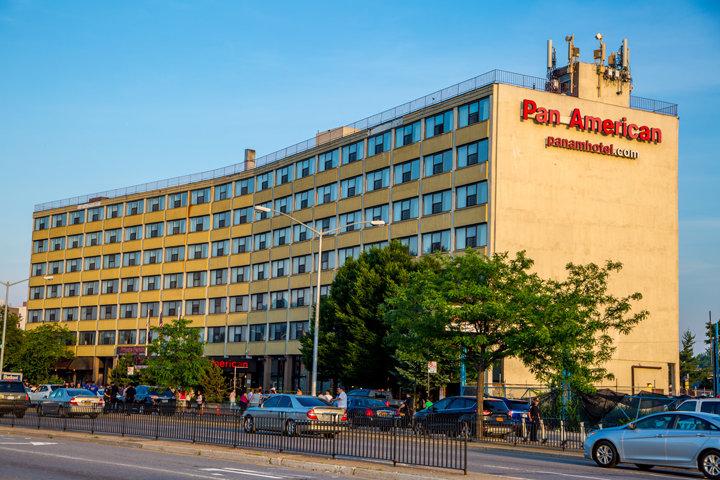 September 11, 2001
The trip: I was scheduled to deliver software training in New York from September 11th to the 14th at a training site less than a mile away from the World Trade Center. We now know that the planes hit the center on Tuesday morning at 8:45am and 9:03 am.
Monday
I was scheduled to stay at the Marriott in the World Trade Center on Mon, Tues, Wed, and Thurs nights. However, I could not get out of Toronto on the Monday night. There were thunderstorms in New York and my 3 pm flight was cancelled and I was rescheduled for 4 pm. That flight was delayed until 6 pm and then cancelled. So I spent the night at the Toronto airport Marriott and rebooked on the 6:50 am flight to New York scheduled to arrive at 8:30 am. I thought that after catching a cab at LaGuardia I'd get to the training site before 9:30 so the training would not be delayed very much. The students (who were from different companies using our software) would arrive between 8:30 and 9, and be told that their instructor would be slightly delayed.
Tuesday
Tuesday's weather was very good, and our flight was delayed 15 minutes by some "equipment test" and ensuing paperwork, but the pilot assured us we would still arrive on time. Around 8:10 am I phoned the training site (from the plane--back when they put phones on the back of the seats instead of tv screens) to confirm my arrival (I had e-mailed them my revised plans the night before).
The plane was packed because of all the cancellations the night before and I was lucky to have gotten even a middle seat. As we began the final descent into LaGuardia I looked out the window at Manhattan to our left. I saw the twin towers of the World Trade Center and felt happy to be landing in New York, a city I really enjoy. The sun hit the towers and they were a bright golden color, a contrast to the buildings surrounding them..
We landed at 8:30 and by the time the plane taxied to the gate, and I disembarked, walked through the airport, took the escalator to the "arrivals" floor, and stood in line for a cab, it was about 8:50. I spent about five minutes in line until I got to the front where the attendant asked me where I was headed. I said "downtown Manhattan to the World Trade Center area." He said that he'd heard there was some kind of traffic accident there and that perhaps the taxi driver would know more.
I got into the cab and we left the airport. The driver turned on the radio and there were some very excited voices talking about a plane hitting the World Trade Center. I didn't hear everything they were saying, so I thought "that must be some other place" and then one of the voices said "Oh my god, another plane has just hit the other tower. We have a report that a two engine plane has just hit the other building…." I thought to myself that this couldn't be happening because I'd just seen the towers from the airplane, and that they'd been there for years and that planes just didn't hit them. I thought, "this must be something like Orson Well's War of the Worlds broadcast, where they are trying to scare people or something."
As the radio dialog continued, I said to the cab driver, "Is this for real? Is this happening here?" And he nodded, and said "Yes, in New York." Looking to the sky you could see a faint dark haze, but just then we came to the top of a hill outside LaGuardia in Queens, and we had a view of Manhattan across the water. There were the two towers of the World Trade Center that I'd seen from the plane, only now they had very wide furrows of dark black smoke billowing out of them. Many of the reports have called it "surreal" and that's what it felt like. My mind could hardly believe what I was seeing.
Alongside us, cars were pulled off to the side of the road, their occupants out on the curb watching and some taking pictures. I looked at the buildings we were passing and many people were staring out their windows, and a few were on rooftops watching the towers in the distance.
While it was clear that the towers were really burning, no one was saying how or why two planes flew into them, and from a distance the damage looked sustainable. No one on the radio knew the size of the planes: two people who phoned in said they were "definitely DC-3s." The cab driver couldn't get through the tunnel into lower Manhattan so he drove up towards the mid-town bridge. I think many people didn't realize the seriousness of the situation and I said to him, "so if the downtown area is all blocked off, perhaps you could drop me off further away on Broad street (where the training facility was) and I can walk down to it." As we were slowly headed to the mid-town bridge a woman, who had just gotten off a bus, came up to us and asked if she could "car-pool" with us to Queens, but I explained we were headed to Manhattan. She looked a little startled and walked away.
By around 9:20 we got to the mid-town bridge and were turned away. Police were not letting any traffic into Manhattan. Around that time I also realized that I wasn't going to get into the city and that training for that day might be cancelled. I also realized that I should call my manager, Pat, about it, and that I had no cell phone (an issue that had come up in our training meetings the previous week!) and that I should contact her soon. Since I was not watching the CNN coverage, my mind was more focused on the training than the towers burning. I didn't know what to think about the towers because I had no context (I knew "when," but Who? What? Why? How?---were all unanswered).
I asked the cab driver if I could borrow his cell phone and told him I'd pay him for the air time. He asked what number, so I gave him our office's number and got my boss's voice mail. I hung on, dialed our switchboard and had her paged. Pat (my boss) said people were worried about me, and I said I was fine. She said everyone at my training site was fine and that they might move the training uptown for the rest of the week. I said I was going to try and get a hotel in Queens, and that it didn't look like I could get into Manhattan. She said she would phone my wife, Joan, to tell her I was ok.
I later learned that my students who were waiting for me heard at least one of the planes fly past because it was so low!
I asked the cabbie if he knew of a "good" hotel in Queens (probably an oxymoron) and if there was a Marriott or something around. He took me to the Pan American Hotel ("New York's most convenient hotel", now closed!) where, he assured me, I'd be safe. He told me airline personnel stayed there. I had to wait for ten or fifteen minutes in the front lobby while they cleaned the room (it was about 9:40 am) and they had the radio on for everyone to listen. It was then a report came through that a third plane had crashed into the Pentagon and President Bush, finally roused from his photo-op with the Florida elementary school class, used the phrase "apparent terrorist attacks." It was a weird feeling because no one knew what might come next. One plane after the other was coming down and we had no way to connect them.
Around 9:45 I went up to my room and turned on the TV and for the first time saw close-up images of the devastation. I had not been watching long when the first tower collapsed and then the second one as well. I phoned Pat around 10:15 to say that things seemed to be getting worse, and I thought that we might want to cancel training for the week because it looked like Manhattan would be off limits. Pat felt our customers might just want to get their people home.
I guess it was around noon when we decided to cancel the week of training, and in the early afternoon I started thinking about how I could get back home. The FAA had banned all flying, and I initially thought things might be back to normal by Thursday or so. As the afternoon wore on it appeared that flying would not be happening any time soon, and Pat looked into Amtrak.
I realize that if I'd gone into New York on Monday night I probably would have been at the training site when the planes hit, and my luggage would have been lost in my room since the Marriott was directly between the two towers. I listen for word of it on the news, but hear nothing. I also realize that this is the only flight I've ever had cancelled on the way to training. For some reason, most bad weather occurs at the end of the week, not the beginning. Someone should do a study.
Tuesday evening I booked Amtrak on the web for Thursday (it leaves Penn station at 7:15 am, and was scheduled to arrive in Toronto at 7:14 pm). I also booked the courtyard Marriott in Times Square for Wednesday. I received a phone call from a CBC producer asking me to appear on Toronto's morning show ("Metro Morning") at 6:15 am the next day. Another producer phoned at 6:10 am Wednesday morning to cancel and says they had gotten someone "closer" to the story. That was ok because I was focused on just getting into Manhattan and then back home. I actually dialed up an internet connection and listened to the interview in Toronto "live" over my computer. The fellow they have on the line is a Canadian, working in New York, who was in one of the buildings right across from the Trade Center. He had to evacuate and tells graphic stories of the explosions and people jumping out of the burning buildings.
The phone lines in Queens seemed very bad. On Tuesday I had to call several times to get a regular line out, though my modem worked with the Open Text 1-800 number after only 2-5 attempts. I can't connect to any of the Open Text company calls. On Wednesday I couldn't dial any regular line out, only 1-800 and 1-888 numbers. It was difficult to phone Joan. I talked to her on Tuesday twice, but on Wednesday, when I was leaving the hotel, I had to phone Pat on the Open Text 1-888 number and ask her to tell Joan (my wife) I was leaving for Manhattan.
I spent some of Tuesday looking at Livelink software material, but most of it watching the disturbing images of downtown Manhattan. In the late afternoon I went for a short walk around the hotel. It was on "Queens Boulevard" in an area with a high density of lube shops, tire shops, chrome wheel shops, cell phone stores (I was tempted), very bad furniture stores and a Burger King and a McDonalds. Two lanes of traffic each way with lots of cars. The residential streets surrounding this busy thoroughfare seemed nice enough and I imagined that Archie Bunker might be living in one of the houses. It was a beautiful day, blue sky, warm, but of course very silent as all planes had been grounded.
On my way back to the hotel I heard a plane overhead but couldn't see it. I later learned on the news that "some people in Queens have reported hearing planes despite the fact that all flights have been grounded. The planes you may hear are military flights landing at JFK, so don't be alarmed."
Wednesday
On Wednesday morning, after listening to the Metro Morning interview and eating breakfast in "Sams" restaurant in the hotel, I prepared to go into Manhattan which was the first stage in the long road trip back to Kitchener. It seemed reasonable to assume cabs would be allowed into the city but when I went downstairs with my bags the bell captain said he didn't think they were. He talked with a limo driver and confirmed that while traffic was being allowed out of the city, no one was allowed in. I later wondered what happened to all New York cabs giving rides to Queens, Brooklyn etc. Was the cab population of Manhattan growing smaller and smaller?
I walked five blocks to the "Grand Avenue" subway stop. My hotel room had been ok, but not really "clean," with the kind of carpet you wouldn't want to walk barefoot on, and the TV only seemed to work on 5 or 6 channels, but I admit that the Pan American's proximity to the subway did make it very "convenient."
I caught the "E" train to the Times Square area, and walked three blocks to the Courtyard Marriott; the whole trip took about an hour and 45 minutes. There is something comforting about staying in a good hotel, and the phone service seemed much better in Manhattan than in Queens. The air conditioning was great, and there is no evidence of tire or chrome wheel stores around Times Square. In the afternoon I walked down to Penn station, navigated through the crowds, stood in line for a half hour, and purchased the ticket I'd booked over the internet. The train was to leave at 7:15 am on Thursday and I didn't want to have any problems finding it.
Wednesday night I had dinner with two friends in New York who live about two miles from the World Trade Center. Mary Helen had been woken up by impact of the first plane and Jeff had turned on the TV to CNN and had seen the images. He'd grabbed his black and white camera and taken several pictures of the Trade Center from different angles. Later that day they'd rented a dark room and developed them. I got to pick one and it's hanging on our wall at home. We had a great dinner at a sushi restaurant in mid-town, but the acrid smell of the burning buildings had reached that area. I saw one couple who were out at night walking and wearing surgical masks.
It's hard to judge the mood of a city based on walking around for a short period of time, but I'd say it was somber, and careful. You know everyone knows something very bad is happening at the southern end of the island, shops close early, and much of New Yorker's "in your face" attitude is gone. Perhaps everyone is a little nicer, or perhaps they are just being more careful.
Late Wednesday night I've just about finished packing and I'm watching the news (the news is constantly on throughout New York, and many other places in the world). I've taken to watching the local news stations because they broadcast a running footer which delivers news about local conditions: which trains are running, numbers to call if you are alive, and other numbers to call if you fear a family member or friend is in hospital or "missing." The NBC announcers say they've just learned that the Empire State building is being evacuated and so are people from surrounding apartment buildings. I know the Empire State is only 4 blocks from my hotel, and I walked past it on the way to Penn station. Then the announcers say "We've just heard that Penn station is being evacuated though we don't know, as yet, why."
So far I've managed to be pretty unemotional about the whole situation, and much of that has been based on a desire to get out of town and back to my family. Now my trip is threatened and New York feels like it's closing in. I reassure myself with the thought that they probably just closed down the station when it wasn't busy so they could sniff for bombs and that it will be open in the morning. It's midnight, so I go to sleep.
Thursday
I wake up at 5 am for the third morning in a row. On Tuesday morning I had to catch the early flight, on Wednesday morning I might have had a radio interview, and I couldn't sleep anyway and on Thursday I have to walk to Penn station. I'm not completely sure it's open, so I ask the front desk man if they have rooms at the hotel. He assures me they have "plenty of rooms" so I begin the 6 block walk to Penn station with my backpack and carry on luggage. I realize that I've seen many people on the streets wheeling their carry on bags down the street, and that many of them have been dumped from cancelled flights. The city is full of grounded flyers, staying in hotel rooms, trying to book alternative travel.
It's a relief to find Penn station open and bustling. I buy some breakfast and lunch items, and I'm also carrying takeout sushi from the night before. I see a lineup that includes two CityTV cameramen (a local Toronto station) so I decide I belong in that line as well. They are checking our passports and giving us tags for our baggage. We are told that all bags must have a tag, though my plastic bag of food and water is allowed to exist without one.
I wait with everyone else until 6:45 when the track is announced and we are all off, down the narrow escalator to the train. I have booked a "business class" ticket (only $30 more than the $60 economy class—train travel is a bargain) and ask where the business class section is. It turns out it's at the very back of the train next to the dining car. The seats look the same as economy class, perhaps even a bit "older" looking. I ask the man stocking the dining counter why this is business class and he say it is because they sell fewer tickets so you get two seats to yourself. This is almost true
Finally, at around 7:20 the train leaves the station! Many of the others on board are Americans just trying to get out of the city. The woman ahead of me says she works at city hall which is near "ground zero" and is closed. She is going to Syracuse to stay with her parents for a "week or two, just to get away."
We travel steadily through riverside park, out of Manhattan, and eventually into upstate New York. I brought a USA Today and a New York Times from the hotel, but the tragedy seems quite distant now because for the 14 hours I spend on the train there is no TV, no news at all except one of the passengers who has been talking on her cell phone and reports that New York has had over 90 bomb threats on Thursday.
The border crossing at Niagara Falls seems to take a long time, but it's probably only 40 minutes. They make us take all our luggage off the train, line it up and stand 4 feet away while they get the bomb-sniffing dog to give every piece a good examination. He seems easily distracted and his handler has to keep bouncing a tennis ball for him, and then patting the bags so he'll return to his task. When we are finally on the way again, and the green grass of Ontario is moving past my window, and realize how relieved I am to be back in Canada on the way home. I never felt in any danger in New York, and I still like the city, but an overall feeling of anxiety pervaded almost every moment. Even though Ontario's grass is probably identical to New York State's, it seems much friendlier.
Throughout the day I work through our Forms course, read a thriller. As we approached the Oakville stop I realize I don't have to go all the way to Toronto. So I get off and take a cab home. By 9:15 pm I'm back with my wife and son. It's seems like a long time since I left on Monday afternoon.